5 fabulous Mother of the Bride or Groom Outfits
0
Any Mother of the Bride or Groom will tell you that they want to look their very best on such an important and special day in their childs life. There are so many lovely Mother of the Bride outfits available on the high street that we decided to share some of our favourites for spring/summer 2015. Wear dresses on their own or team with a matching jacket or accessory to create your perfect Mother of the Bride look.
1 – Phase 8 – Tiana Lace Dress and Tiana Lace Jacket (Size 6 – Size 20)
Phase 8 have shops around the country and are available in some Debenhams and John Lewis Department Stores.
This stunning Phase 8 Mother of the Bride dress is priced at £130.00. The dress is navy with a gorgeous powder pink lace V neck overlay. The bow at the front adds a femine touch and the colours mean it will fit in perfectly with the bridal party. Phase 8 also sell the matching Tiana Lace tailored Jacket which is priced at £145.00. With its 3/4 length sleeves and lace detail it compliments the dress perfectly and really makes a statement.
2 – Jacques Vert – Petal Print Shift Dress and beaded shawl (Size 8 – 24)
Jacques Vert have their own stores and is available in most Debenhams stores, they also have branches in many other department stores around the country.
This flattering sleeveless petal print shift dress comes in a truffle colour, it has a stunning petal design and pleats at the neck. It matches their super soft truffle beaded shawl perfectly creating a elegant look that is perfect for a spring or summer wedding. The dress is priced at £149.00 and the shawl is £49.00.
3 – BHS – Ivory Floral Shift Dress and Black Bolero (Size 8-22)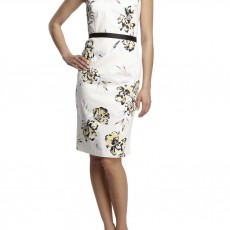 BHS have high street stores all over the UK.
Perfect for mother of the brides on a budget is this ivory floral print shift dress at £42.00. It is made of soft stretchy fabric giving you added comfort and the black grosgrain belt brings you in at the waist giving you a stunning silhouette. Why not team with this gorgeous Black Bow Back Bolero which is priced at only £18.00.
4 – Coast – Demera Dress (Size 6 – 18)
Coast have stores up and down the UK and also branches in John Lewis Stores.
This sophisticated Coast Mother of the Bride demera dress is priced at £150.00 and looks simply stunning. The clever design includes a built in jacket making it ideal for special occassions and the dress is full lined.
5 – House of Fraser – Linea – Ombre shutter dress (Size 8 -22)
Linea are available at House of Fraser stores, they sell a fantastic collection of occasion dresses and jackets.

This Linea Mother of the Bride sleeveless Shift dress is priced at £110.00. It is knee length and has a V neck in champagne, the waist is a light beige colour and the skirt is a darker beige which creates a stunning refined look. The dress can be worn with the Linea champagne Shutter Jacket priced at £99.00 which completes the look perfectly.

May 3, 2015 | admin